Call Center Workers Object to High-Tech Monitoring System That Alerts Supervisors if an Employee Is in the Restroom Longer Than Eight Minutes a Day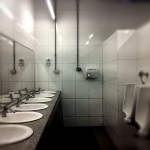 Union representatives and government inspectors are looking into complaints that managers at a Norwegian call center forbid employees from spending more than eight minutes a day on, uh, personal business:
Managers are alerted by flashing lights if an employee is away from their desk for a loo break or other "personal activities" beyond the allotted time. […]
A spokesman added: "Surveying staff to limit lavatory visits, cigarette breaks, personal phone calls and other personal needs to a total of eight minutes per day is highly restrictive and intrusive and must be stopped."
The firm said the aim of the checks was not to measure the breaks taken by individual workers but to assess staffing needs to ensure all calls from customers were answered and it would now be reviewing the policy.
It is the latest example of lavatory rules in Norwegian companies.
Last year the country's workplace ombudsman said one firm was reported for making women workers wear a red bracelet when they were having their period to justify more frequent trips to the loo.
Another company made staff sign a lavatory "visitors book" while a third issued employees with an electronic key card to gain access to the lavatories so they could monitor breaks.
Did you see that, Alex? Employees at other companies are allowed to go to the restroom during their shifts.